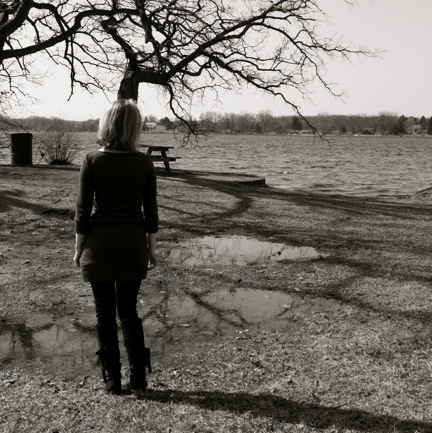 What's the bravest thing you've ever done?
Stand up to a bully? Save a life? Fall in love?
For me, it was this:
I picked the parking spot seven steps from the door so that I couldn't leave without notice again.
"You can do this," I whispered, pulled on my car door handle and pushed the door open wide with my shoe.
"Good evening" came from passerby, as I unfolded myself.
Is she an alcoholic? Or someone who loves one? Did she wonder the same about me? I turned my face in her direction enough to show my half smile and then nodded.
The woman was wrinkled friendly but at 50-something or so, she was too young to be drenched in the old-lady perfume that lingered heavy in the air.
I closed my car door, paused for the beep to confirm I'd locked it and followed a yard behind the woman through the church meeting center entrance, to the arrowed sign in blue on the white concrete walls and then down the stairs.
Hard-sole sandals that clickety clack are a curse when you don't want to be somewhere.
If I'd worn soft rubber, I could have easily turned around, headed back up the stairs and bounded to my car before Perfume Lady – or anyone else – could notice my escape.
It's not that big of a deal, I lied to myself.
It'd been a long time. Twenty-six years, in fact, of keeping a secret and of hoping that many alcoholics and addicts in my family would be "fixed" by a sweeping, sudden miracle.
In those years, I became extraordinarily good at pretending and of upholding a carefully constructed public image.
Alone.
I grew up coping with a Dr. Jeckyll/Mr. Hyde – a loved one whose alcoholism caused broken promises, behavior that couldn't be predicted and general chaos.
It was our normal.
As Perfume Lady rounded the corner to reach the basement's long hallway of meeting room doors, I slowed my sandal clacks and paused.
Why am I here? I am not the addict. I'm not the one who needs help. Why must it be ME searching for the solution? 
With that burst of anger came emotion…and a fast replay of memories.
The little-kid days…sitting with my toys until my loved one's wakeup late into the day…confusion about the lack of patterns in the reactions, in the attention, in the love…
In high school, when my friend unexpectedly dropped by for an afternoon visit and met my drunken loved one at the door…
In college, when my first serious boyfriend's visit to the house ended with me in tears…
The nights out with friends that ended abruptly because I needed to check on the situation at home – or when the worry dampened the fun….
Joyful family weddings and other get togethers marred by the drunken, angry outbursts and terse words…
The letdowns. The fear. The worry. The frustration.
I have to fix them.
When I stood in a green cap and gown, holding a skinny paper tube as a symbol of my degree, I was still hopeful for that miracle – the cure of the addiction – or a new solution dreamed by my officially adult brain.
It was my honorary step into adulthood – and my step into public relations. I was good at crafting messages and maintaining images, after all.
Four years after graduation, I couldn't sleep. I found little humor in what once made me roar with laughter. I reminded myself to smile, to be the pleasant person everyone knew me to be.
My alcoholic loved ones had hit rock bottom but I'd been there for a while, anchored by own obsession with their illness – and belief that I could move on with my life if these people would just get better.
There in that cold hallway, I still considered retreating to my car and crossing the meeting off the to-do list entirely forever.
I heard a sneaker sole squeak and keys jingle and I knew that if I left with haste, those people might stop me, and urge me to return.
Go.
I stepped through the door that bore a handwritten sign: "Al-Anon. Welcome!"
About thirty people smiled or nodded when I appeared with that frightened, I'm-new look in the doorway.
I listened to the stories. One by one – each a familiar variation of my experience, my fear, my worry, my frustration and my pain.
My story, they already knew! Still, I did not want to share the truth about my family, about me. I wanted to keep that image.
But then I let go.
This shook from my lips: "Hi."
I stared at the center of the wooden table, shocked that I'd begun speaking.
"I'm Jody."
I uncrossed my arms and sat taller.
"Hi, Jody," roared back to me without delay.
I cleared my throat, looked up to acknowledge the twenty sets of eyes I felt upon my face.
Some smiled, some shifted in discomfort from the awkwardness of my delay, of my fear.
I realized in that moment that I wasn't there for anyone else but me.
"I'm a mess," I whispered. "I've lost control of my life and myself because I'm obsessed with fixing the alcoholics in my life. I am lost."
At first I tried to stop the tears – like I always did during Hallmark commercials and the like – by wiping them – careful and gentle – to avoid makeup smearing.
But when I said, "I need help, and that's why I'm here. For me," something unlocked inside.
And my story, I told.
Childhood worries, teenage humiliations, broken promises, constant planning for the next terrible thing, how I'd taken on far too many responsibilities as an adult and worst of all, how I felt hope slipping away.
A grandpa, wrinkled, scruffy and full of life, lined up a stack of pamphlets and books, pushed them across the table until they were within my arms' reach. He said, "Jody, you've turned the key and the wheels are in motion."
Hope.
I felt it return.
I'd come looking for a fix for my alcoholic family members and realized how much help I needed to give myself.
Mascara streaked across my cheeks, leaving behind grayness the way my alcoholic loved one's behavior often marred my carefully applied plans.
That moment kickstarted my cathartic journey. I discovered that in the process of trying to take care of everyone else, I'd neglected to do my one job in life: to take good care of myself.
When I made major and minor changes in order to take good care of myself, every facet of my life improved. My relationship with my alcoholic loved one improved dramatically, and I found purpose in life and understood who I am.
And it took bravery to make it happen.
What's the bravest thing you've ever done? Tell me in the comments below.
I hope you have a great week.