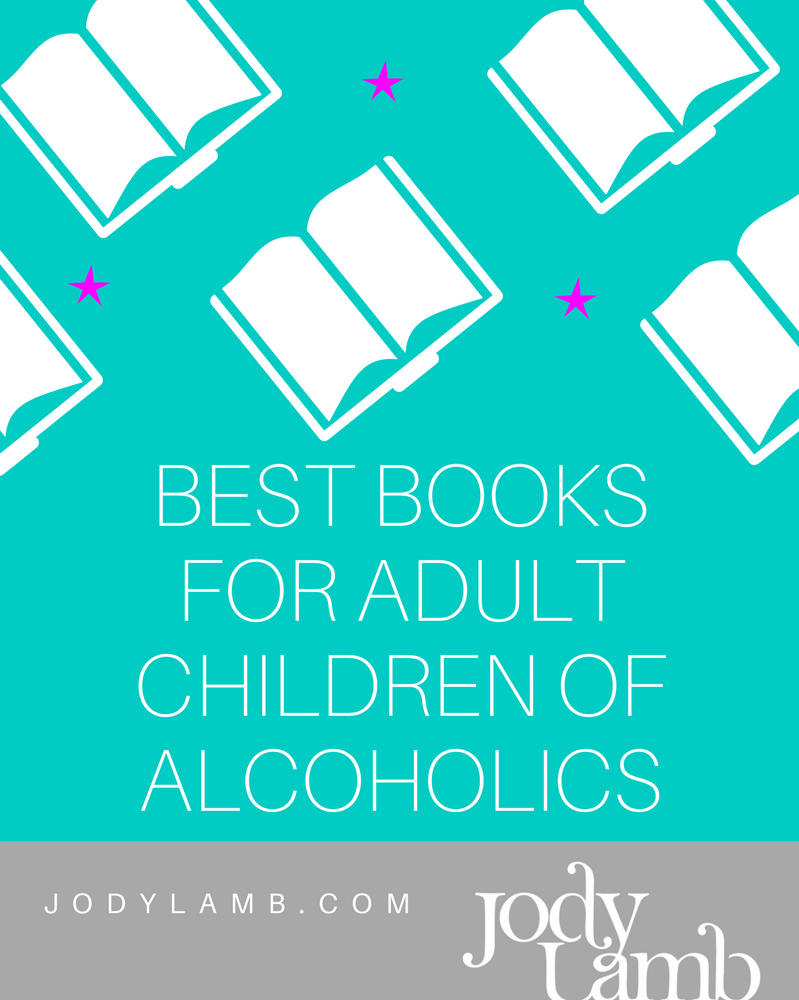 Here is a list of great books for adult children of alcoholics. They tackle the topics of PTSD, childhood trauma, co-dependency and other issues caused from our childhood and adolescent experiences in a dysfunctional, chaotic and abusive home environment with an alcoholic mom or dad – or both. As the daughter of an alcoholic, I have read as many books for adult children of alcoholics (ACoAs) as I can find. These are the books that I found most influential in my healing journey so far and in understanding what was happening to my alcoholic mother, our family, why the hell I have so many issues and how I can change my life. These are the 10 books you need to read if you were raised by alcoholics.
The best books for adult children of alcoholics
If you are currently coping with an alcoholic parent or other loved ones and hoping to help them get treatment, I recommend the following books focused on intervention:

This book by Jeff Jay and Debra Jay  is among the most effective guides for families with an alcoholic or addicted loved one. Read Love First: A Family's Guide to Intervention
 before you call an addiction intervention specialist or attempt to plan an intervention on your own. I read it when I was completely desperate about my mother's need for treatment and it shed light on my best next step.
This book by Robert Meyers and Brenda Wolfe provides a solid introduction to CRAFT (Community Reinforcement and Family Training), an approach to help family members of alcoholics and other addicted people. It has helped thousands of people. While research is limited on this approach so far, this books gives examples of the CRAFT approach that may help you.
Books you need to read if you were raised by alcoholics
The following books helped me recognize that my experience as a child of an alcoholic REALLY affected me as an adult. They helped me develop a plan to tackle challenges stemming from being a totally, TOTALLY normal ACoA and gave me hope for the future.

Adult Children of Alcoholics by Janet Woititz describes the common challenges experienced by adult children of alcoholics. This was one of the first CoA books I read; I remember thinking, "Oh my gosh, yes, that's me! She's practically in my head!" After reading it, I felt a lot less alone in my struggles and a lot more hopeful that I could heal from all of this heavy stuff. It may help you learn how to recognize opportunities for healing.
This one by Jane Middleton-Moz and Lorie Dwinell also identifies common CoA issues and lists steps adult children of alcoholics can take to break free from these challenges and create an awesome grownup life.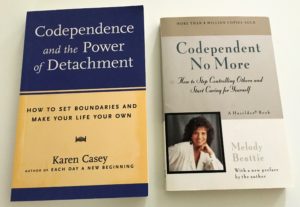 Melody Beattie changed the world back in the 1980s when she penned this first book about codependency. Today, the term "codependent" is now widely understood. Since I just searched Giphy and found relevant gif results for the keyword "codependent," safe to say it's now mainstream. Children of alcoholics are SUPER inclined to have codependent behavior as adults. Codependent No More: How to Stop Controlling Others and Start Caring for Yourself
 will help you change how you react and behave so that you can be free to create a better adult life.
This is another great codependency-focused book. By Karen Power, Codependence and the Power of Detachment: How to Set Boundaries and Make Your Life Your Own
, highlights codependent thinking and behaviors. Seriously, you may not think you're codependent until you read this book. I read it and had several aha moments. It helped me more clearly see my unhealthy thinking and behavior. I didn't even realize I was doing half of it! Though I still have to remind myself to detach from situations frequently, I credit this book as being among the first books to get me detaching and becoming healthier.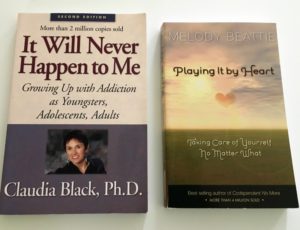 Claudia Black is among the most respected and pioneering authors on the ACoA topics. This one is an iconic, must-read book for adult children of alcoholics. Even more than the other books I've already mentioned, this book felt like it was written for me. That's how common CoA issues really are; this one opened my eyes and my heart to the fact that I have the power to heal from my experiences with an alcoholic mother.
Another Melody Beattie book, this one is focused on self care. Self care and self love are struggles for ACoAs, I found this book to be helpful in crafting a plan to learn and be dedicated to self care.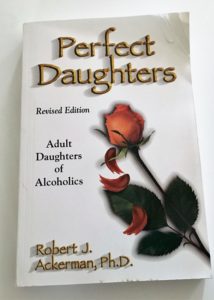 I remember spotting this one at a bookstore and reading the first chapter right there in the self-improvement aisle. The mother-daughter relationship is a complex and important one. As the daughter of an alcoholic, I know well the pain that comes with having a mother who's battles alcoholism. This book by Robert Ackerman walks through the common unresolved issues that affect female ACoAs in their adult lives. Relationships, saying no, taking on too much, parenting issues, etc. – the list goes on. Perfect Daughters: Adult Daughters of Alcoholics
 will help you identify next steps in your healing journey.

All of the books published by Al-Anon Family Groups could use a little updating but like the in-person meetings, these little books were helpful for me early on in my ACoA healing journey. One Day at a Time in Al-Anon
 and Courage to Change-One Day at a Time in Al-Anon II: Part 1
 share daily reflections. Okay, so, some of the reflections are waaay better than others but I found several sparked good thoughts for my healing journey.
Some of the most extraordinary people are children of alcoholics. Canadian Olympian Leah Pells is one of them. Her book, Not About the Medal
, is one of the most moving autobiographical stories I've read on the power of hope and resilience.
Take good care of yourself.