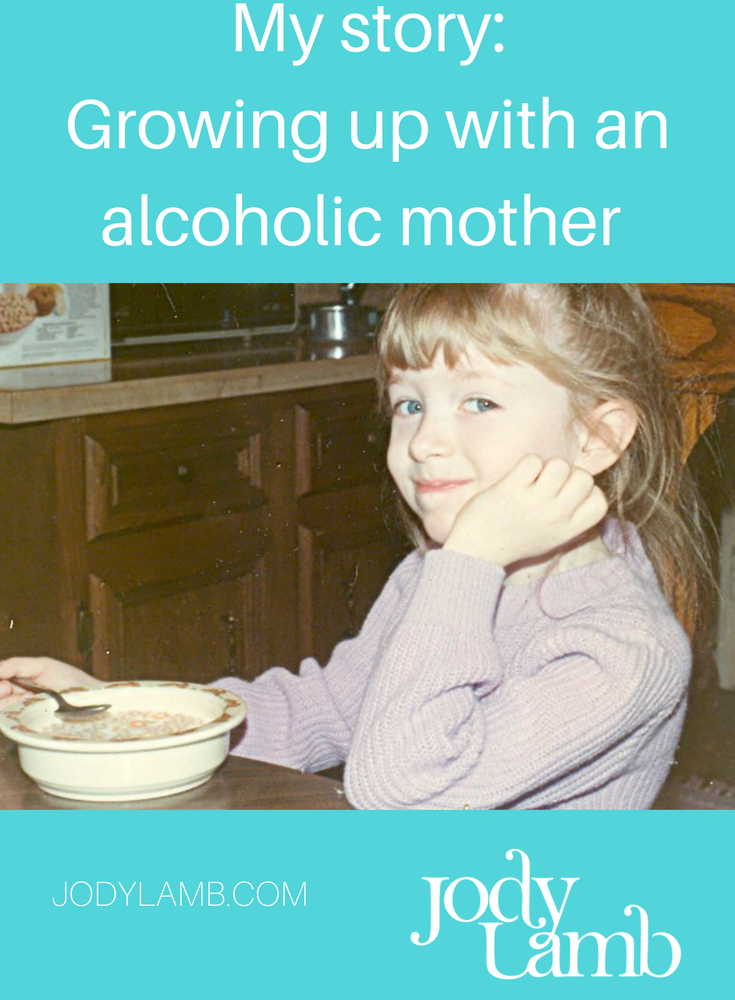 Growing up with an alcoholic parent
I was one of billions of kids who grew up with an alcoholic parent.
Sometimes I'm hesitant to share my story because I know there are so many people who had it far, far worse than me. But I believe personal stories are powerful and should be shared.
So here's mine:
My mother and father were extraordinarily kind-hearted, compassionate people. But my mother, who had a traumatic childhood, was an alcoholic before I was born. I love my mother deeply. She is a wonderful person. Every day, I wish I could do something to take away the hundreds of pounds of sadness she carries every day. But the effects of her alcoholism affected my sister and me terribly.
I was born in 1982 and grew up in Dearborn, Michigan. The first 10 years or so of my life, I don't remember my father being home very much. He worked in the evenings, mostly, and this left me with my mom as the primary parent.
My mother drank at night and into the early morning hours several times a week.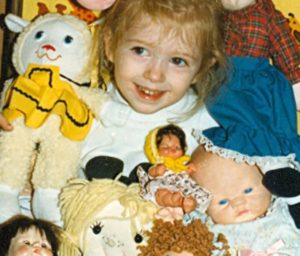 I was four or five years old in my earliest memories. I clearly remember sitting by myself on a Saturday. I watched hours of cartoons by myself and when they were over, I sat playing by myself for hours. I was hungry but my mom was still asleep. I think she didn't wake until well into the afternoon. I remember watching the kid across the street playing. I wished that my mom would wake up so I could go outside, too. When one of the kids saw me in the window, he waved. I was so humiliated, I dropped down to the floor. I wondered if he knew how much I wanted to go outside and I wondered if he thought it was weird that my mom and I were never outside, especially on such a beautiful day. I was only 4 or 5, yet I already recognized that Mom's behavior didn't match that of other families.
Around that same age, I remember apple juice being my favorite drink. One day, I asked my mom why her apple juice always had foam on top of it. It took a few years after that to make the connection between my mom's dramatic mood changes and her consuming the foamy apple juice. After a while, she drank directly from beer cans. She hid these cans and bottles all over the house.
By 8 or 9 years old, I regularly went looking through the closets and cabinets and poured out the beer and returned the empty cans and bottles to their spots. I also often organized the cabinets and closets because it made me feel there was kind of order to the house, even though my mom's behavior made everything unpredictable, chaotic and messy.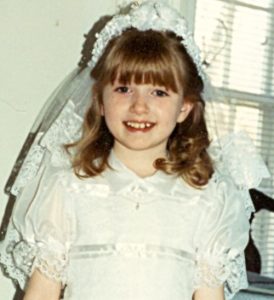 I went to a small Catholic school about a 15-minute drive away from our house. We lived too far from the busing system limits so my mom had to drive me every morning. Sometimes – quite often, actually – she wouldn't get out of bed. I got up myself, made my own breakfast, got ready and prayed she'd get out of bed. Sometimes, I'd have to plead and beg her to get out of bed for 20 minutes. By the time I made it to school, I'd be crying. I'd make it to the school as the last bell rang or minutes too late. I felt ashamed about my tardiness and hated the attention on me as I entered the classroom after my classmates were already seated. I'd be stressed, exhausted and nauseous before the day even began. The teachers at the school had zero clue. In fact, I was probably the last student they'd suspect to be dealing with an alcoholic parent at home. I was always super well behaved and got good grades. In the fifth grade, my teacher said, "Jody, you are so lucky to have a perfect mother."
My mother was a good mother…when she wasn't drinking.
I knew my mother's behavior due to drinking wasn't good. I knew her health was at risk and I knew the way she screamed at me and my dad and stumbled around wasn't good. But like most kids of alcoholics, I was used to it and as a mini adult, I was really good at hiding any evidence of trouble at home. I saw my cousins often but besides that, we lived a very isolated life. When family and people at school saw us, everything seemed fine. My mother and father's family knew she drank but I don't think they really had any idea that it kept me up at night, that I was neglected in so many ways, that I went to school without enough sleep and that I was constantly – and I mean constantly – worried. I worried her cigarettes would burn the house down because she dropped burning cigarettes on the couch, the car, everywhere and she left stuff cooking on the stove and passed out and didn't even wake up to the smoke detectors going off. Worse, I was perpetually confused by my mother's behavior. One minute she was showering me with compliments, the next minute she was screaming, swearing and throwing things at me. I felt I couldn't do anything right and that I was never good enough. Now, I knew my mother loved me but on some level, I felt I caused her drinking.
In every way, it was the family secret. To some degree, I don't think my dad even knew in those early years, how much my mother's drinking affected me but we had conversations about it. He called it a Jekyll and Hyde situation. If you met my mother, you'd only see an extremely sweet and kind person. This is the person she truly is. However, when she drinks, she becomes an entirely different person – completely unrecognizable. She transforms into a loud, angry, aggressive, violent, abusive and destructive person. My mother would scream at the top of her lungs about ridiculous things or things that had nothing to do with me or my dad. She'd throw things across the room. She'd hit my father. She'd take off for hours or a day. I'd fear she was dead. She'd drive drunk. I'd fear that she'd kill someone. And most memorable, she'd say the cruelest, hurtful things. As a young person, it was impossible to separate those mean words from the kind words she spoke when sober. The hurtful words were far more impactful. She doesn't mean what she says when she's drunk, my dad would explain. But that didn't matter. The words echoed in my mind and scarred me.
Usually, my mom woke up the next day, all sweet acting, as if nothing happened. Sometimes it was easier to pretend the drunken behavior didn't happen. Other times, I was so hurt and angry such as when she'd disappear for hours, I couldn't even speak to her. Many times, she didn't even remember what happened and definitely didn't remember the things she said. Average days were nightmares. I also have horrible memories of ruined holidays and family weddings. I have zero good birthday memories.
But I was really, really good at covering up the messes – figuratively and literally. I tried to be a perfect kid. On some level, I think I thought my mom drank because of me and maybe if I could just be better, she wouldn't have any reason to drink. Or, that if she really loved me, that would be enough to make her stop drinking. Through tears, I begged and pleaded that she stop drinking. She probably promised that she'd never drink again about 1,000 times throughout my childhood. I also wrote lengthy, heartfelt letters and slipped them under her bedroom door. She'd throw them away without a response.
I was sure that I could "fix" her if only I tried a little harder.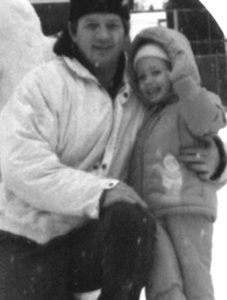 I had the same conversations about it with my dad over and over. He'd acknowledge the problems but then offer no solutions. He believed she'd just get better – that it was a rough patch. He always say, "Things have a way of working out."
But she didn't get better. She got worse. My late father, wonderful man he was, was totally trapped by codependency and paralyzed with fear that Mom would die if they divorced or some other action was taken. In fact, he told this to my sister and me on several occasions. He just always acted like it would get better on its own. He didn't see clearly that my mother's alcoholism was destroying all of our lives and that allowing life to go on the way it was actually enabling my mother's alcoholism to go on and worsen. My dear father was a talented athlete and coach who had a positive impact on thousands of lives throughout his life. But he was made ill by alcoholism in our house. He simply tried to be the best dad and husband he knew how to be. But not a day goes by that I don't wish he would have gone to Al-Anon meetings, gotten educated about what the hell was going on with his wife and taken action that would have pushed Mom to hit rock bottom and perhaps then, at the prospect of losing her life, finally get help. Maybe my father would be alive today if he had.
It was a lonely childhood. I always wanted brothers and sisters. My mom had a few miscarriages. Every time she lost a baby, I cried.  I wanted a sibling to experience life with; I may have hoped another child would give Mom purpose and happiness in the way I could not.
I was 14 when my sister, Brooke, was born.
Though I was a bit old to care about having a sibling at that point, I felt blessed to have her in my life. Complications during delivery almost killed Mom and Brooke.
I was the first person to hold Brooke, which I always think completely foreshadowed my role in her life.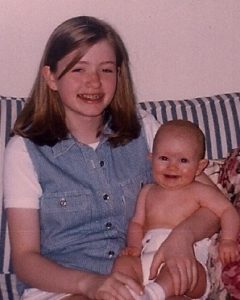 My sister's arrival did not snap Mom out of her drinking problem, though she drank less in my sister's toddler years than she had before the pregnancy. Still, I could never have friends over to visit at the house. I have horrible memories from high school when friends dropped by unannounced and my mother's drunken, aggressive and abusive behavior humiliated me. Another dominant memory is when I invited my first serious boyfriend over to the house and begged my mom not to drink and she promised that she wouldn't. Of course, she got drunk and the evening ended with me humiliated and fighting back tears and a very uncomfortable boyfriend who departed early.
In those teen years, I was completely obsessed with my mom's drinking.
Every day, I searched the house for her hidden bottles and cans and poured them out – which of course, only completely perpetuated the problem because she just then went out to the store and bought replacement supplies. I could determine, with spot-on accuracy, how many beers she'd consumed just by looking at her face or hearing her speak one or words. I could also predict if she planned on drinking that night or not. If she had supplies, she'd act happy, even giddy, that day. I'd get instantly sick to my stomach. If she couldn't drink for some reason, she'd be terribly irritable – snapping at me over trivial matters, even becoming as evil tongued as she did while drunk.
During those teen years, I grew closer with my father. He was super supportive and encouraging about my cross-country and track running and involvement in school extracurricular activities. I began to understand him better. In the process, I began to resent my mother for what I perceived as a conscious decision not to get better. I believed she didn't care enough about her family to get help. I was angry at her but I went off to college with a pit in my stomach. I worried about the well-being of my sister, though my dad assured me things would be OK and insisted that I would regret not focusing on myself for once.
After years of being the perfect, rule-following kid, I went a bit wild and did the common party thing in college. I liked the way alcohol erased my insecurities. By my second year, I recognized my relationship with alcohol was mirroring that of my mom and alcohol. I started feeling like I needed to drink in order to go to social events where I didn't know many people. I felt I wasn't drinking socially anymore; I was totally emotionally dependent on alcohol for a sense of confidence. I felt I was standing atop a very slippery slope. After that year, I stopped drinking heavily and focused my efforts on my education and building a foundation for a career.
That's when I discovered that things were not good for my sister. My dad was working at night a lot again. My sister was being neglected by our mother and endangered. Mom would lock herself in her room for two days, leaving Brooke to care for herself. I spent my senior year of college basically commuting back and forth from class and work to home. My sister needed me. That year, I even sometimes brought Brooke to stay for the weekend at my college apartment. When a Big 10 college apartment is safer for a seven-year-old girl than her home, the home is an extreme problem. My father's family urged my father to take action to get me and my sister out of the situation. He recognized the worsening problems but he was so trapped by a mix of denial, codependency and laidback, everything-will-work-out personality that prevented him from believing he had the ability to make things better. He really believed that Mom was a hopeless cause and that if he left her, she'd die.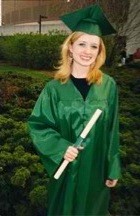 After graduation, I took a full-time job. I considered trying to get custody of my sister but I had only just graduated from college and I feared "the system" would place her elsewhere because I was so young. Also, I didn't want to hurt my dad. So, I split my time between work and being the stable person my sister needed. After a few years, I moved out of my apartment and back home. We all lived together in chaos again for about five years. But even after I moved out again, I still spent nearly all of my free time with Brooke and at school and sport events. I was the primary parent for my sister…and my parents. Complete role swapping. I cleaned the house. I reminded my dad about bills. I helped with the science projects. Mom continued to worsen with DUIs and run ins with the police. Though I knew the police officers had good intentions and had perhaps seen far worse situations, I was always blanketed in extreme shame when they gave me those looks of pity.
At 26, I was exhausted and depressed – like I didn't want to go on anymore yet I felt I had to. There were so many people depending on me. That's when I finally got educated about alcoholism and addiction and its impact on kids and families. I better understood my mother and her disease. I let go of a lot of expectations. I learned about the effects of growing up as a child of an alcoholic. I discovered that many things I felt – extreme anxiety, low self-confidence, problems trusting people, lack of satisfaction with anything – were directly tied to the destruction my mom's alcoholism caused. I began taking better care of myself. I went to Al-Anon meetings. I met other adult children of alcoholics. I began reading and writing more often, as I'd done as a child. This prompted me to write a middle-grade novel for tweens that was published in 2012.
Because I was focused on taking better care of me, this helped the whole family.
Then in 2014, Dad died from a heart attack.
My first thought was: My dad is gone. My second thought: Oh my God, now I am 100% responsible for Mom.
My sister was 17 and ending her junior year of high school.
So I did what most first-born children of alcoholics would do: I assumed my dad's role. I moved out of my place and back into my parents' home. I promptly forgot everything I'd learned about co-dependency and self-care.
My mother, overwhelmed with intense grief, plummeted. Every day, for months, I feared I'd come home and find her lifeless body. Once again, I became obsessed with her drinking. She binged for days on end. Again, I was determined to "fix" her. At one point, I convinced her to see a psychologist and I sure it the turning point – the road to recovery. It wasn't.
After three months of sleepless nights, my sister said she couldn't bear to stay there and watch Mom slowly kill herself so we moved out. I sobbed the day we moved. It felt like I was abandoning a sick child.
But then as the weeks passed, I get healthier. My sister got healthier. Our minds cleared as time passed being away from the chaos and the abuse. I detached, slowly.
My departure from the environment and my father's death forced Mom to be more of an adult than she ever had in her life. While her alcoholism is still destructive, my sister and I are much better today.
My sister is in college and doing great.
I am still a work in progress but it's a productive journey of learning and healing. I believe that sharing these personal stories is tremendously powerful. If you are an ACoA (adult child of an alcoholic) or grew up in a dysfunctional/abusive situation, I hope you're well on your healing journey, too. Glad you're here.
Take good care of yourself.